scrap boy's
scrap boy's
Scrap boys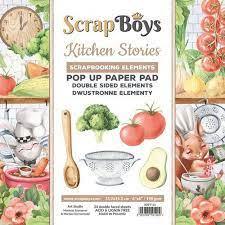 Populaire thema's en patronen in scrap designpapier zijn divers en bieden een breed scala aan keuzes voor creatieve projecten. Een veelvoorkomend thema is bloemenmotieven, die zorgen voor een romantische en kleurrijke uitstraling. Strepen en ruiten zijn ook geliefd, omdat ze een grafisch en gestructureerd element toevoegen aan het ontwerp. Voor degenen die van een speelse touch houden, zijn dierenprints een favoriet, zoals luipaard- of zebra-prints. Natuurlijke elementen, zoals bladeren, takken en houtnerfpatronen, zijn ook erg populair, omdat ze een organische en rustieke sfeer creëren. Tot slot zijn feestelijke thema's, zoals kerst, verjaardag of bruiloft, altijd in trek, omdat ze de mogelijkheid bieden om speciale gelegenheden te vieren met vrolijke en feestelijke ontwerpen. Met scrap designpapier is er voor ieder wat wils en kunnen creatieve projecten tot leven komen met de vele beschikbare thema's en patronen.
het belang van kwaliteitsvol design scrappapier
Kwaliteitsvol scrap designpapier is van groot belang bij het maken van scrapbooks. Allereerst is duurzaamheid een belangrijk aspect. Het designpapier is gemaakt van stevige materialen die bestand zijn tegen veelvuldig gebruik en niet gemakkelijk scheuren. Hierdoor kunnen de scrapbookpagina's lang meegaan en blijven ze er goed uitzien. Een ander belangrijk aspect is kleurechtheid. Het designpapier moet kleurecht zijn, zodat de kleuren niet vervagen of veranderen bij het gebruik van lijm, inkt of andere materialen. Dit zorgt ervoor dat de scrapbookpagina's er helder en levendig uitzien. Bovendien biedt kwaliteitsvol scrap designpapier veelzijdigheid. Het heeft verschillende ontwerpen, patronen en thema's, waardoor het geschikt is voor diverse scrapbookingprojecten. Of je nu een romantisch thema wilt of juist iets stoers, er is altijd passend designpapier te vinden. Een ander belangrijk aspect is dat het papier zuurvrij is. Dit betekent dat het geen schade veroorzaakt aan foto's, documenten of andere materialen die ermee in aanraking komen. Dit zorgt ervoor dat je scrapbookpagina's en decoraties veilig bewaard kunnen worden zonder dat ze beschadigen. Tot slot is de dikte van het designpapier van belang. Het moet voldoende dik zijn om stabiliteit en stevigheid te bieden aan de scrapbookpagina's en decoraties. Hierdoor blijven ze mooi rechtop staan en gaan ze niet snel kapot. Kortom, kwaliteitsvol scrap designpapier is essentieel voor het maken van mooie en duurzame scrapbooks.
wilt u meer weten over ons spaarplan kijk hier